A Series of Kitchen Events: Part 1
So I got my hands on Jamie Oliver. Yes folks, THE Jamie Oliver. He currently resides in my kitchen. Waiting patiently for me. Never pushing, never nagging. Just waiting for me to open it up and watch it make my life easier for me.
This is Jamie in my kitchen. Preparing a delicious meal. To my family.
Okay. Scratch that. THIS is the Jamie Oliver that sits in my kitchen. Precisely, the Jamie Oliver HomeCooker from Philips. It is a formidable looking machine that is meant to cook for me, stir for me, and can make an entire meal with the least intervention from me. The perfect gadget for the busy mom.
For fear of boring you with a VERY LONG POST, I have chopped up the post in 2 and this one just talks about the device from a 'theoretical' perspective. My next post will actually describe to you how I used it to make dinner for my family.
As mentioned on the
Philips website
, the HomeCooker's features are:
... allows you to leave during cooking
Always the exact temperature you need
Timer up to 99 minutes, with ready signal
Automatic shut down
Cutting and slicing directly into the pan
XL feeding tube for all your ingredients
Unique combination for perfect end result
Pasta insert, steaming basket and tray for different recipes
Jamie Oliver recipebook full of variety and inspiration
2 cutting and slicing speeds
5 different discs that slice, shred and cut julienne
I ran out of breathe reading that.
I read the manual from beginning to end and can now operate this beauty easily (I think). It looks complicated I must admit and was overwhelmed at first. But the controls are pretty straightforward.
The following 3 paragraphs are from the website (my comments in
purple
):
"You can choose which speed you need for your cutting, depending on the dish or recipe you are making. For cutting julienne use speed 1 and for slicing and grating use speed 1 for soft ingredients like mushrooms and speed 2 for hard ingredients like carrots and salami.
Sounds so convenient..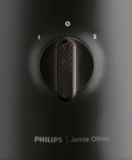 The appliance is perfect for a wide variety of dishes, from breakfast to dinner. You can melt, simmer, boil, steam and fry. So you can prepare delicious slow cooked dishes like stews, nice meat curries and your own fresh and healthy pasta sauce your children will love. Also homemade soup, fried potatoes or a perfectly cooked risotto and paella are easy to prepare. You can select the exact temperature thanks to the Perfect Temp technology (between 40-250 C), set the timer on the control panel and turn on the stirring attachment and the HomeCooker will do all the hard work for you.
Byebye greasy kitchen! This sounds like it makes everything - I just hope the smell is kept at a minimum.
With the QuickSet timer you can set the exact time easily. The timer can count down and can count up in seconds, up to 99 minutes. When the time is done, the HomeCooker will give you several times a beep signal.
Perfect for busy moms.
-End quote.
The cookbook it comes with is basic. Not as many recipes as I would like but there are more on the website once you register your product. There's a dedicated
website
for the HomeCooker which is great as you can avoid all the clicks and searches on the main website.
I opted for this pasta dish. It's a light dish for dinner as it has no meat or chicken (I always prefer veggie-based dinners for my kids) and it looks heavenly.
Spaghetti alla Norma
2 large firm aubergines, cut into 1cm chunks
1 tablespoon of dried oregano
extra virgin olive oil
4 cloves of garlic, peeled and finely sliced
1 large bunch of fresh basil, leaves picked and stalks finely chopped
2 x 400 tins of plum tomatoes
1 teaspoon of white wine vinegar
500 grams of dried spaghetti
60 grams of grated salted ricotta or pecorino cheese (I will use parmesan)
sea salt and freshly ground black pepper
In a bowl, toss the aubergine chunks with the oregano and 4 tablespoons of extra virgin olive oil, until evenly coated.
Make sure the stirrer attachment is in place in the pan, then set the temperature to 175°C. Once the pan has heated up, add half of the aubergine and set the timer for 20 minutes, so it gets nicely golden on all sides. When the time's up, scoop out the cooked aubergine and repeat with the second half.
Once done, return the first batch of aubergine to the pan, along with the garlic, basil stalks and another drizzle of oil. Set the timer for 5 minutes, so the garlic starts to go golden. Meanwhile, use scissors to roughly cut up the tomatoes in the tins. Add them to the pan with the vinegar, reduce the temperature to 130°C and set the timer for 15 minutes to let the sauce simmer.
Meanwhile, cook the spaghetti in a large pan of boiling salted water according to packet instructions. Scoop out and reserve a cupful of cooking water, then drain the pasta well and return to the pan.
Turn off the HomeCooker and stir half of the cheese into the sauce. Tear in the larger basil leaves, then season to taste. Tip the sauce into the pasta pan and mix well, loosening with reserved cooking water if needed. Serve scattered with the remaining cheese, the baby basil leaves, and a little drizzle of extra virgin olive oil.
I love how the instructions also tell you how to operate the appliance and what settings to use...etc. Can't wait to make this.


Stay tuned for my next post!
Product Details:
Name: Jamie Oliver HomeCooker
Available at Mohammed Fakhroo & Bros on Old Palace Road in Gudaibiya.
Also available at hypermarkets.
Showroom Number: +973 17 25 35 29
Retail Price: BD159
Warranty: 2 years